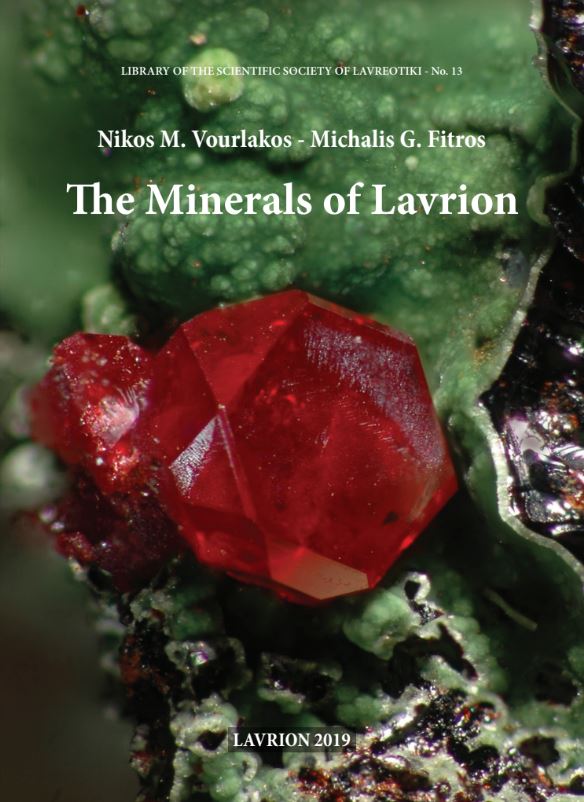 The Minerals of Lavrion
Over the last years, as the science of geology has evolved and many more researchers study the minerals of Lavrion area, there has been an increase in the numbers of newly discovered minerals in this area. Some of them have taken their names from distinguished scientists and fellow citizens, thus creating an on-going catalogue.
The presentation of this edition will take place on the 20th December in the National Technical University of Athens, Greece.
This led to an increased need for a new book containing all the minerals in the Lavrion area, from the oldest to the ones recently discovered.
The Scientific Society of Lavreotiki with the english updated and revised edition of
"The Minerals of Lavrion" has made an effort to combine historical, geological and mineralogical data in one book. Τhis book documents all the – so far – known minerals of Lavrion area in Greece. It also fulfills a debt owed to Lavrion (the authors's birthplace) and to anyone interested to know more about the importance of this area.
Contributors:
Text: Nikos M. Vourlakos – Michalis G. Fitros
Curation of Edition: Christian Mavris (Chris Mavris)
Scientific Curation – Translation: Stylianos F. Tombros (Stellios Tombros)
Minerals Photos: Fritz Schreiber, Tóth László (Tóth László), Dr. Branko Rieck, Paschal & Daniel Journet (Pascale Journet), George Kafantaris (George Kafantaris), Piet van Kalmthout and Dr. Ivan Prachař.
Edition Design: Konstantinos Tsirikos.