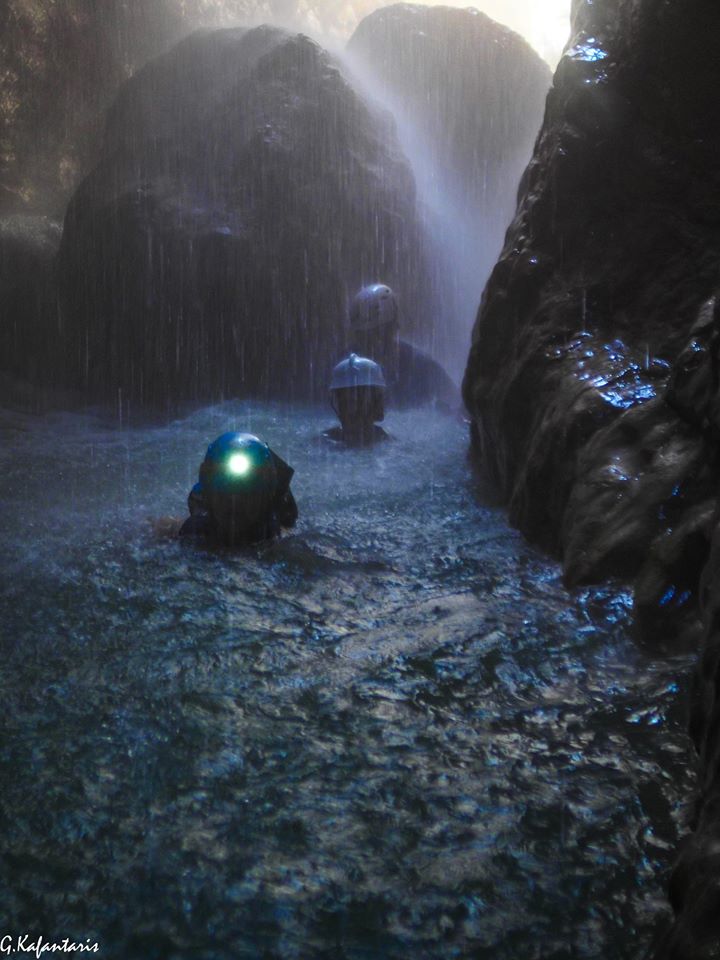 Experiencing the Blue Gorge
 «Grieve for everything, blame others for everything and don't feel grateful for anything. That way, you will definitely fail.»
This was the first thing I thought of while walking along the banks of the Krathi River, in the company of George Kafantaris and Aje Pantou, in the direction of the gorge. In fact! My main feeling was gratitude for my good health, the opportunity to be here, in a heavenly place and, of course, my good fortune for my good friends who share with me this moment.
The course, passable, magical almost occult. The entrance to the narrow gorge is ritualistic, mysterious. Here the water with the light dances a continuous tango, Argentine, passionate, erotic. As a result of this union, the Blue. Blue clean, redemptive, relaxing.
The caress of the color on the lunar rocks creates a Hollywood adventure movie setting. You are fooled and you think, ecstatically, that you went up to the clouds dancing with the angels. The water droplets that come from the springs of Stygos give us strength and energy, it is logical to think that Achilles was baptized there, taking on the immortal property of their waters.
Leaving the gorge, our surprise is greater since nature has created slides for an endless game and smooth recesses, the pedestals, where the water falls as fast as it is necessary for the perfect natural massage.
We climb the rocks for sunbathing relaxing from the song of the cicadas, before returning to the place where we started …
What is this place called? Peristerias Gorge. I will say "Blue Gorge".
@ ΚΕΔΡΟΣ Travel
@ Photography – George Kafantaris