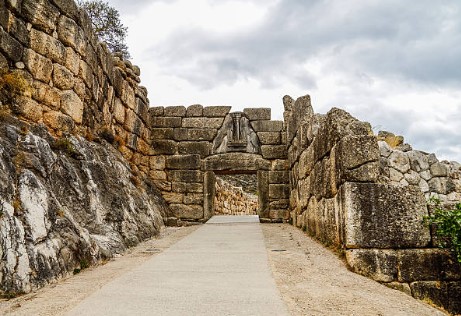 In the heart of the Mycenaean world
Mycenae was founded between two high conical hills, Profitis Elias (805m) and Sara (660m), on the top of a naturally fortified hill: to the north and south, it is protected by ravines and is only accessible from the west. This strategic location, which controlled the plain of Argolis as well as road and maritime communication, in combination with the presence of subterranean springs on the site, was ideal as the base for the Mycenaean kingdom. The acropolis of Tiryns, also at a vital location near to the sea, dominated a large expanse of the plain that spreads to the coast of the Argolic Gulf.
In the case of both acropolises, the natural fortifications were reinforced by the renowned Cyclopean walls, so impressive in their construction that the ancients believed that they had been built by the mythical one- eyed giants, Cyclops.
Tiryns fully exploited the many natural advantages of the area. The plentiful agricultural production of the fertile plain and maritime trade were sources of wealth and contributed to the residential development of the city. Indeed, the choice of the hill was so rewarding that Tiryns experienced continuous inhabitation throughout the 12th century BC, even after the gradual collapse of the Mycenaean world. In the lower acropolis of Tiryns, there are hidden tunnels that safely lead to subterranean systems.
Two magnificent lions (or possibly lionesses?) tirelessly guar the entrance to the 'golden Mycenae' of King Agamemnon. In 1802, when Lord Elgin visited the acropolis of Mycenae and saw the Lion Gate, he considered taking it to pieces and removing the renowned relief, but it seems that he did not have at his disposal the appropriate equipment to transport it. Illegal excavations and the illicit trade of antiquities are the greatest man-made dangers to the monuments- witnesses of a distant but great past.