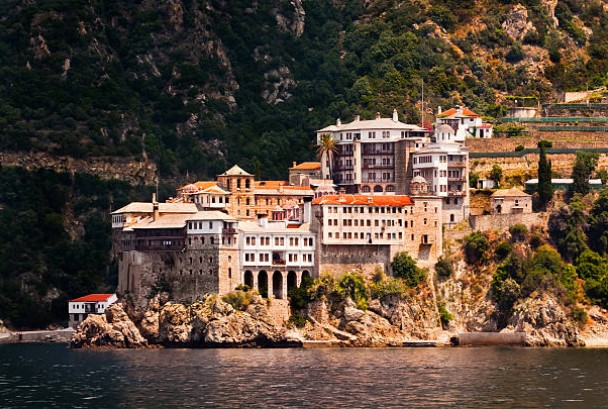 In the garden of Virgin Mary
According to tradition, the Mother of God together with St. John the Evangelist sailed to Athos. Bad weather forced them to disembark at the location now occupied by the Iviron Monastery. The Virgin then asked her son to grant her the area, which was beautiful. And so, the peninsula became the 'Virgin's garden'.
The Athonite State, with its 20 monasteries, extends over a landscape of unequalled beauty, with natural charm and idyllic densely vegetated woodland slopes. Mount Athos was possibly the largest artistic center of Byzantine and Post-Byzantine art, while today, it is point of reference for the Orthodox Christianity.
The Athos Peninsula combines a wide range of climatic types, as its altitude rises steeply from sea-level to 2,033m. The monasteries are in harmony with the varied natural environment and all the other buildings (hermitages, dockyards, etc.), lending an intense sense of spiritual, so that the visitor finds himself closer to God. The Garden of Virgin Is covered by forests of oak, chestnut, fir and black pine, and many other rare forms of flora, and is home to some of the richest fauna in Greece: around 131 species of bird, 37 of mammal, 14 of reptile and 10 of amphibian. This unique environment is an integral part of World Heritage.
After 1924, during agricultural reforms, the monasteries began to exploit the forests, which resulted in them being transformed into deciduous, i.e., forests where regeneration takes place with shoots and not with seeds or seedlings. These forests require greater                                                                                         management to ensure the stability of the ecosystem.
Far from the cities and air pollution, the forests of Mount Athos remain mostly untouched. Despite this, they are also in danger from climate change: fires burn down the forests and often threaten the monuments themselves. In turn, other natural disasters, such as floods accompanied by powerful winds, damage the natural and constructed landscape of Athos.