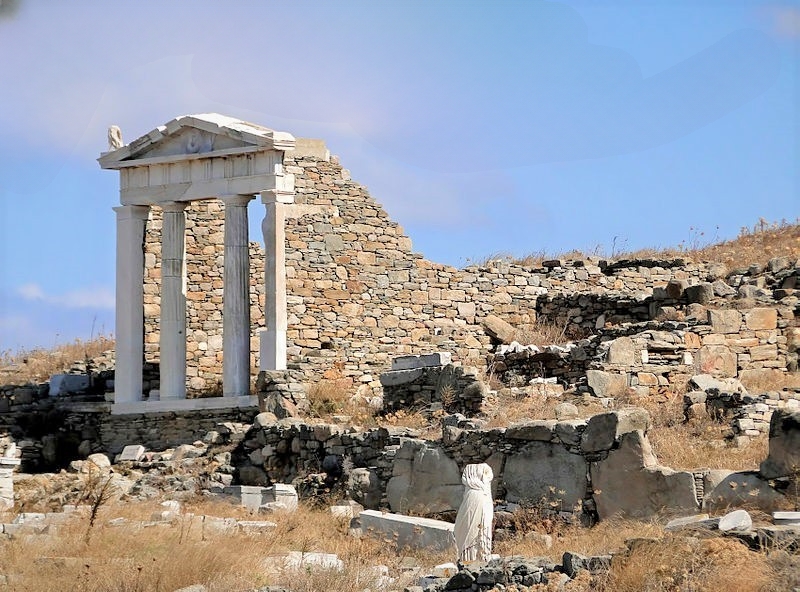 At the center of the Cyclades
Delos, one of the smallest islands in the Cyclades, was once one of the most important and sacred islands in Greece, the base of the Delian League, and a cosmopolitan trading harbor.
According to myth, the invisible rock, which was floundering in the waves, dropped anchor and emerged from the sea thus becoming the site of the birth of Artemis and Apollo, the twin children of Zeus and Leto. As soon as Apollo was born, the landscape filled with flowers and lift and nature awoke. The rocky island – with a maximum length of 5km and a width of no more than 1,300m- flooded with sunlight, was ideal for the worship of the God of light. During the Hellenistic and Roman periods, it was home to a thriving population, which reached 30,000.
The temple was built in the only small valley, to the north west of the island. There is no spring water on Delos, so private and public wells and drinking fountains were constructed, and every home had a system to collect rainwater. The rain formed a small seasonal stream, the Inopos, and the round Sacred Lake of Apollo, which was drained between 1925-26 because there had been cases of malaria.
Right in the center of the Cyclades and next to Mykonos, the island of winds, Delos is under threat. The famous Lions of Naxos (Terrace of Lions) were gradually being destroyed by the wind and sea salt: to protect them they have been replaced by copies.
The porous stone walls of the monuments have suffered serious damage and require annual re- enforcement and conservation work.